Hearings
Full Committee
The EMV Deadline and What it Means for Small Businesses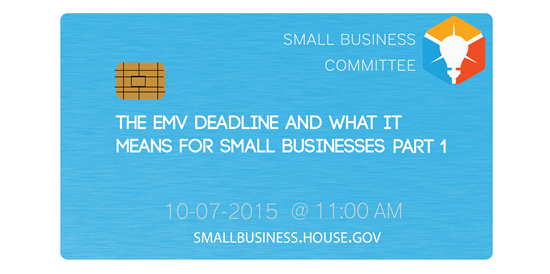 The Committee on Small Business will meet for a hearing titled, The EMV Deadline and What it Means for Small Businesses. The hearing is scheduled to begin at 11:00 A.M. on October 7, 2015 in Room 2360 of the Rayburn House Office Building.

The Europay, Mastercard, Visa (EMV) chip payment system will be implemented nationwide this October. The upgraded technology is designed to protect against cybercrime and fraud. However, many small businesses are unprepared for the new payment structure. These businesses will not only be more vulnerable to cyber threats, but they will also be held liable for certain incidents of fraud. According to a recent study, less than forty-nine percent of small businesses are aware of the looming deadline and liability shift. This hearing will examine the implications of the EMV chip deadline for small businesses and the efforts that are being made to ensure America's small businesses are in compliance with their financial service providers.


Chairman Chabot Opening Statement

Witness list:

Ms. Stephanie Ericksen
Vice President, Risk Products
Visa Inc.
Foster City, CA
Testimony
Disclosure

Mr. Scott Everett Talbott
Senior Vice President, Government Affairs
ETA | Electronic Transactions Association
Washington, DC
Testimony
Disclosure

Mr. Paul Weston
President & CEO
TCM Bank, N.A.
Tampa, FL
Testimony
Disclosure

Ms. Jan N. Roche
President/CEO
State Department Federal Credit Union
Alexandria, VA
*Testifying on behalf of the National Association of Federal Credit Unions
Testimony
Disclosure

Hearing Materials:
Notice
Witness list
Memo


For press interested in covering this event, please contact Kelley McNabb or Adam Scheidler.