smallbusiness.house.gov
Rep Cmte Small Business
Contact:
DJ Jordan, Wendy Knox 202.225.5821


Graves Questions Treasury Secretary Timothy Geithner on Access to Capital for Small Businesses
"[E]very single member of this Committee truly believes in one thing – that any recovery will be led by the ingenuity and drive of America's entrepreneurs."-Sam Graves (R-MO)
Washington, June 22, 2011 -

WASHINGTON, DC— House Small Business Committee Chairman Sam Graves (R-MO) today questioned U.S. Treasury Secretary Timothy Geithner on the state of small business access to capital and credit during a full committee hearing. Specifically, the hearing focused on the Small Business Lending Fund (SBLF) and the State Small Business Credit Initiative (SSBCI) created by the Small Business Jobs Act of 2010 as passed by the Democrat-controlled Congress last year.

"The key to America's long-term, sustainable economic recovery is held by flourishing small businesses— our nation's number one job creators. But in order for small firms to grow and create jobs— they need access to adequate financing.

"It was good to hear firsthand from Secretary Geithner today. However, I am disappointed by the performance of the Treasury's SBLF and the SSBCI programs so far. It has been nine months since the creation of the programs and not one lender has received funding. With unemployment hovering at nine percent, the administration should not be dragging their feet in making these funds available to lenders and small businesses. The Treasury Department expedited delivering funds from TARP, why not the same urgency with the SBLF and SSBCI? I hope the Treasury Department will accelerate this process so that these programs actually help hurting small businesses and get Americans back to work."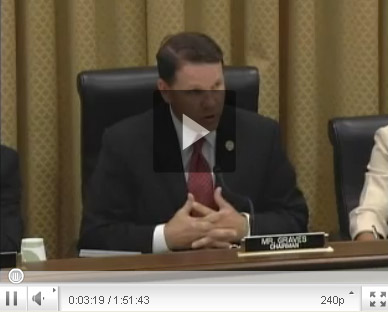 For more hearing documents, including the full text of Secretary Geithners' testimony, click HERE.