Press Releases
House-Passed Estate Tax Bill would Harm Small Businesses
H.R. 4154, passed today by the House of Representatives, did not consider that many small businesses are capital intensive.  At a recent House Small Business Committee hearing on the estate tax, a witness testified that printing companies, which are often family-owned, frequently have large investments in equipment and structures.  Printing presses can cost over $3 million each, and sometimes several are needed to operate the company.  In addition, printing companies often own rather than lease their plants, and that real estate is also subject to the estate tax. 
Although a company's balance sheet may look impressive, it may not contain liquid assets to pay the estate tax.  Second- and third-generation small business owners, especially those in capital-intensive industries, desperately need estate tax relief to help their companies survive.
House Small Business Committee Ranking Member Sam Graves (R-MO) spoke on the House floor today in opposition to H.R. 4154 and called on his colleagues to repeal the estate tax.  See the full text of his remarks below: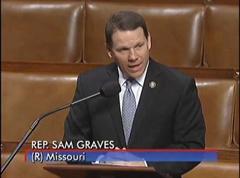 View Video Here
Madam Speaker, I rise in opposition to H.R. 4154. While I appreciate the efforts of my colleague from North Dakota, this bill is not the answer.  The bottom line is that death should not be a taxable event.
Small businesses and family farmers have felt slighted in Washington over the past two years. Congress has bailed out irresponsible players on Wall Street, pushed policies that will increase costs on small businesses, and taxed them at every turn to pay for a big government agenda.
Today we have yet another bill on the floor that ignores the little guy. H.R. 4154 is not indexed for inflation, so more small businesses will be forced to pay the death tax in future years. Additionally, the bill does not take into account capital intensive small firms, whose expensive equipment will cause them to be subject to this onerous tax.
If Congress was serious about helping small businesses in this economic downturn, we would be debating a bill on the floor that repeals the death tax.
I urge my colleagues to oppose this bill so that Congress has the opportunity to bring real solutions to the table for our entrepreneurs and farmers.
I yield back.
###