Press Releases
Small Businesses: American Economy Headed In The Wrong Direction
Small Businesses: American Economy Headed In The Wrong Direction
WASHINGTON— In the U.S. Chamber of Commerce's latest Small Business Outlook Survey, only 10% say the U.S. economy is headed in the right direction. The quarterly surveys are designed to track the small business community's outlook on their business, the local economy, and the national economy over time. Small business owners are polled nation-wide, and respondents include U.S. Chamber members and non-members.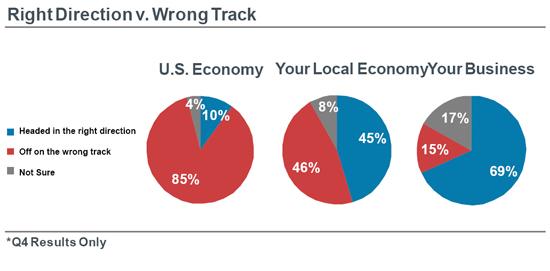 Highlights of The Small Business Outlook Survey:
I. Uncertainty Continues to be the Biggest Challenge for Small Businesses

• The small business outlook for the national economy still shows that the vast majority think our country is on the wrong track (85%).
• What is the impact of regulation and the new health care law? Fewer jobs. 78% of small businesses surveyed report that taxation, regulation and legislation from Washington make it harder for their business to hire more employees. And, 74% say the recent health care law makes it harder for their business to hire more employees.
• What do small business leaders want Washington to do? Eight out of ten say they would rather have Washington stay out of the way than provide a helping hand. Eighty-six percent say they would rather have more certainty from Washington than more assistance (6%) to deal with the economy.
II. The Small Business Outlook for Local Companies and the Local Economy is Improving

• Fewer small businesses plan to lose employees over the next year (11%). However, there was no increase seen in employers planning to hire in 2012, with 63% planning to keep the same number of employees in the next year.
• Small business attitudes about the local economy have improved over the last year, up 12 percentage points. Thirty-four percent of small businesses surveyed think the business climate will improve over the next two years, but have yet to resume hiring.
###