Press Releases
Bridging the Small Business Capital Gap: Peer-to-Peer Lending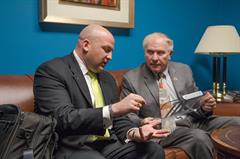 Bridging the Small Business Capital Gap: Peer-to-Peer Lending
WASHINGTON -- During today's House Small Business Committee hearing, "Bridging the Small Business Capital Gap: Peer-to-Peer Lending" led by Chairman Steve Chabot (R-OH), members heard from peer-to-peer lending experts whose testimonies shed light on emerging lending techniques that could expand small business' access to capital.

"While access to capital has always been a concern for small firms, as we all know, the Great Recession and recent reforms to our financial markets have made access to capital even more difficult," said Chabot. "However, recently there has also been an influx of alternative lending options to assist small businesses in getting the financing they so desperately need."

Zachary Green, CEO and Founder of MN8 Foxfire based in Cincinnati, Ohio, testified before the Committee about his success with peer-to-peer lending, which helped him grow and save his company specializing in firefighting and safety technology. "Almost every entrepreneur I know has the same recurring nightmare: running out of money," Green said. "In under 36 hours, Foxfire received the money we needed. This is the perfect example of how the free market can act faster than larger, traditional institutions and keep the American Dream alive."

Also testifying today was Sam Hodges, Co-Founder and Managing Director of Funding Circle USA, who emphasized the need for more affordable long-term financing solutions. "Short durations and very high effective rates drive many small businesses that use such credit products into downward cycles of re-borrowing in which they take out more and more debt to roll over their repayment obligations," Hodges said.

The Committee also heard from Rajkamal Iyer, an Associate Professor of Finance at MIT's Sloan School of Management, who has conducted studies on peer-to-peer lending trends. "One of the big problems of credit markets in general is screening for the underlying creditworthiness of borrowers," Iyer said. "The interest rate set by [non-expert individual] lenders predicts default 45 percent more accurately than the borrower's credit score."

Chairman Chabot recognized the need to continue examining capital alternatives to traditional loans that are better suited for small businesses.

For full witness testimonies and footage of today's hearing, click here.
###