Meet Chairman Sam Graves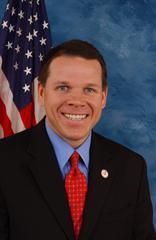 Chairman Sam Graves has dedicated his career to promoting and supporting the American spirit of entrepreneurship. As a sixth generation farmer, Sam is the first Republican Chair of the House Small Business Committee who has real world experience running a small business.
Growing up in Tarkio, Missouri, Sam spent his childhood learning the family farming business. After earning his Bachelor's degree in Agronomy from the University of Missouri-Columbia's School of Agriculture in 1986, Sam began working full-time on the farm – a job he maintained while serving as a Missouri State Representative (1992 – 1994) and as State Senator for Missouri's 12th Senatorial District (1994 – 2000).
In 2001, Sam became the Representative for Missouri's 6th District in the U.S. House of Representatives. Sam has been a member of the House Small Business Committee since he began his tenure in Congress, rising to Ranking Member in the 111th Congress. On January 5, 2011, he assumed the Committee Chairmanship for the 112th Congress.
Sam's outstanding leadership and his strong advocacy for small business issues have been recognized by organizations such as the National Association of Manufacturers, the Small Business and Entrepreneurship Council, the Agriculture Retailers Association, and the American Farm Bureau. He has received the U.S. Chamber of Commerce's Spirit of Enterprise Award multiple times and has repeatedly been named a Guardian of Small Business by the National Federation of Independent Business.
**
Click here to download Chairman Graves' official photo.