In Case You Missed It
Graves Discusses Questionable Government Contract on CNN's AC360
Graves: "You certainly can't ignore the political connections between the company and the administration."
WASHINGTON, D.C.— Last night, House Small Business Committee Chairman Sam Graves (R-MO) participated in a special report by CNN's Anderson Cooper 360 on a suspicious $433-million government contract for a smallpox drug. A joint Small Business Committee and Oversight and Government Reform investigation has revealed potential violations regarding the procurement process, the appearance of a political impropriety, and the alarmingly exorbitant price.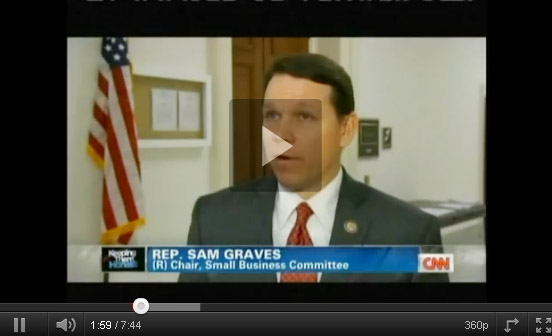 CLICK HERE to view the report.
BACKGROUND: On May 30, 2011, the Obama Administration awarded a $2.8 billion contract, later reduced to $433-million, for the production of an experimental smallpox drug to New York-based SIGA Technologies Inc., which is owned by billionaire Ron Perelman, one of the world's richest men and a longtime Democratic Party donor. This contract was originally designated as a small business contract, however in May, SIGA was mysteriously awarded the contract through a "sole-source" procurement in which it was the only company asked to submit a proposal. The contract calls for SIGA to deliver 1.7 million doses of the drug for the nation's biodefense stockpile at a price that is about $255 per dose, which is above what the government's specialists had earlier said was reasonable.
This procurement raises several questions, including why was this not awarded to a small business as originally planned; or why did SIGA receive the award after it misclassified itself as a small business when originally pursuing the contract; and why was the taxpayer-funded price for this experimental drug procured at a 180% profit for SIGA. The
LA Times
and
CNBC
have also reported on the questionable nature of this contract.